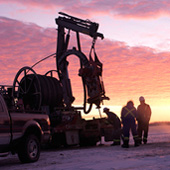 Select Energy Systems Inc. was incorporated in 1988, specializing in providing live well and shallow gas coiled tubing completion services. The company has evolved from its modest beginnings to providing an extensive array of services and solutions to the oil and gas industry in Western Canada, United States and international markets. Through innovative solutions and superior services, Select Energy Systems has earned the reputation as being the leader in coiled tubing completion systems and well optimization.
Select Energy Systems' head office is located in Calgary, Alberta. With field locations across Alberta and Saskatchewan, we provide our clients with timely, high quality and reliable services in a safe and cost-effective manner. We provide a variety of services, which include detailed completion designs, field services, unique product offering, as well as custom solutions to meet our clients' needs.
Select Energy Systems' highly trained and experienced personnel safely and efficiently completes thousands of wells each year. Select Energy Systems value proposition is based on our commitment to the advancement of coiled tubing completion and production applications as well as collaboration with our clients and the industry at large.
Select has a very unique cast of employees who hold a variety of background experience in Field Operations, Product Development, Completions and Workover Wellsite Operations. This group with vast knowledge of industry practices and hands-on experience proves that Select knows what to do and how to do it. Experienced personnel provides extensive training to the field staff and gives them the ability to prove themselves as knowledgeable professionals on the well site under any circumstances.
Select's product line has grown from simple coiled tubing wellheads into a variety of standard and specialty systems. Still providing completions for sweet shallow gas, Select now offers built-to-suit wellheads for applications such as SAGD (Thermal) and Cold Oil Production. Select's sub-surface products have also been included with this growth, as well as thermal equipment, which has been recently introduced to Select's pallet of applications. With ever evolving technologies, practices and requirements, Select is always developing advanced equipment to maintain our reputation as an industry leader.
*Select may use outside Engineering firms where required